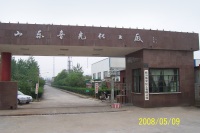 Linyi Luguang Chemical Co., Ltd was established in Dec. 2007 via shareholding transformation on the basis of the former state-owned Shandong Luguang Chemical Factory, which was founded in 1966. Linyi Luguang Chemical Co., Ltd is one of the largest enterprises which produce nitric acid and nitric salts series. It is located in Linyi city Shandong province, at the junction of Beijing-shanghai and Ridong highway, and near Qingdao and Lianyungang port. Therefore, our company possesses the unique traffic advantage.


Linyi Luguang Chemical Co., Ltd covers an area of 500,000 square meters with fixed capital of 300 million Yuan and with 1340 stuff members, 286 professional technicians. Our new plant of 150,000tons of sodium nitrite and sodium nitrate in Linyi Economical Development Zone has been put into production. Our main products presently are: strong nitric acid (35,000mt/year), sodium nitrite (80,000mt/year), food grade sodium nitrite (2,000mt/year), sodium nitrate (300,000mt/year), potassium nitrate(40000mt/year),calcium nitrite (6,000mt/year), calcium nitrate (5,000mt/year), oxalic acid (5,000mt/year), nitromethane (2,000mt/year), hydroxylamine hydrochloride (1,000mt/year).

Our company always persists on the tenet of " quality and credit first". We have perfect quality supervision and quality assurance system, which guarantees the whole procedure from material purchasing, process controlling to the finished product detecting. Our company is the provincial advanced enterprise, the unit of "strictly abide by contracts", and the enterprise which has reached the standard and has won the national advance of science and technology prize, etc. The quality of our products lies on the top in the line. Our products are popular with the domestic and foreign market.


In the future, Luguang will take advantage of its own technology innovative ability and marketing capacity with the eximious tradition, advanced management to push the renovation and development of the industry and try to take a leading position home and abroad. We will challenge to ourselves and make our customer satisfied.
We sincerely hope to cooperate with clients from both home and abroad to create bright future.